"Worship & Faith" - Music Review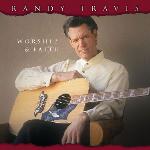 Country music veteran Randy Travis' third faith-driven album comprises a diverse 20-song collection of classic hymns, country-gospel favorites and modern-praise selections. Fans of the singer's previous efforts will find much to like about "Worship & Faith," particularly the album's no-frills acoustic arrangements and Travis' distinctive baritone renderings.
Among the conventional highlights are a dawdling yet exquisite version of "How Great Thou Art," the string-inflected "Softly and Tenderly" and the subtle bluegrass stylings of "Blessed Assurance." Also noteworthy, old-fashioned standard "Love Lifted Me" features a satisfying duet with Third Day frontman Mac Powell.
Banjo- and fiddle-tinged southern gospel mainstays "I'll Fly Away" and "Shall We Gather at the River" are particularly memorable, as is toe-tapping keeper "Turn Your Radio On."
But perhaps most engaging are Travis' covers of modern-worship tracks, especially his roots-oriented treatment on "Open the Eyes of My Heart" and "We Fall Down."

© 2004 CCM Magazine.  All rights reserved.  Used with permission.  Click here to subscribe.