Worship and Real Life Collide Beautifully on Lincoln Brewster's Latest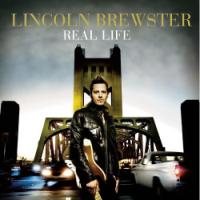 Artist: Lincoln Brewster
Title: Real Life
Label: Integrity/Columbia

Bold musicianship, not to mention a decidedly personal songwriting approach, is ultimately what distinguishes Brewster's project from the usual congregational-friendly fare.

In stark contrast to the mountaintop faith experiences often written about in modern worship's most popular choruses, Lincoln Brewster offers insight into God's intervention in life's more mundane moments on Real Life, a superb, 10-song collection with all weary souls in mind.

Lending a more personal feel to the proceedings, Brewster skips right past generalities and infuses his own experiences from a childhood spent in Alaska into the standout title track. And this idea—of God meeting us in the midst of over-committed schedules and misplaced ambitions—sparks plenty of engaging food for thought.

Whether he's reminding us that God really, truly has a plan for our lives in "Best Days," a collaboration with Hillsong's Mia Fieldes or challenging himself (and fellow believers) to rise above status quo living in "Made for More." Brewster consistently avoids platitudes and offers a compelling snapshot of what it really means to embrace God in the everyday.

Also proving he's still got the knack for writing songs the Church will want to sing together in Sunday morning services, the energetic strains of "Shout (He's the Saving One)" and "Reaching for You" are both dynamic and memorable declarations of gratitude to the One who saves, redeems and loves us in spite of our flaws.

From a musical perspective, Brewster also employs a fresh approach. Instead of relying on the standard-issue, radio-friendly pop/rock timbres we've all heard a million times before, he reintroduces the guitar solo (remember that?) with gusto on several tracks without sounding dated in the process.

All that said, it's still the quieter moments when Brewster's work shines the brightest. Case in point: the contemplative "Whom Shall I Fear."

Teaming up with fellow worship artist Kari Jobe, who lends her lovely voice to the chorus, Brewster offers up this always-relevant refrain for those particularly challenging days: "I know You're with me in the fire/You never leave me in the flame/I know your thoughts are so much higher/And all Your ways are not my ways."

Now that's encouragement everyone can use, whether it's Sunday morning or just an ordinary Wednesday afternoon.


**This review first published on October 12, 2010.
Check out the latest Lincoln Brewster music videos at Godtube.com