Worship Music: Here to Stay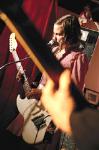 No one can disagree at this point that worship music, as a genre, is still a veritable force in the Christian music industry. After all, when the industry's top-selling artist stops to make not one but two worship records, which garner platinum success, all arguments are off (Michael W. Smith's "Worship" and "Worship Again," anyone?). But Michael isn't the only one who's crossed genres. A-list artists such as Newsboys, Third Day, Rebecca St. James, Caedmon's Call and many, many others have recorded vertically minded recordings that have gone on to register as some of the top-selling albums in the past few years. Even CCM's own Reader's Choice ballot has included a "Favorite Worship Artist" category both last year and this year (See CCMmagazine.com to vote!).
So why has this genre gained so much popularity? There are many theories out there: Other genres were in a slump, every Christian music fan can identify with worship music, or the surge of the modern worship movement in churches has sparked its prevalence and on and on. Charlie Peacock ("Everything That's On My Mind") penned a column for CCM back in August about this very thing. "The real worship business is 24/7, all directions, all the time, gladness of heart and praise for everything," he wrote. "It is not something that experiences popularity then wanes. It is not a market share. Instead, it governs and is the reason for all good markets."
Whatever the reason and whatever the definition, worship is here; and it's here to stay. For that we can all be grateful, as the worship movement has opened doors for mass exposure to talented artists, such as the ones written about here, and worship songs currently being sung in our sanctuaries.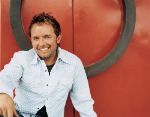 Chris Tomlin: Almost Famous
Chris Tomlin may not be a household name, but there is a good chance you sang one of his songs at your worship service this past week. Tomlin's tunes, including "Forever," "We Fall Down" and "Famous One," are among the most widely used by contemporary churches across the globe. In fact, Tomlin has registered five songs in the Top 500 on the Christian Copyright Licensing International (CCLI) Charts (a record of songs played in churches across the country), with two in the Top 20. And his newest release, "Arriving," had just released with an extremely impressive 22,000-plus sold at press time during its first week out. While these numbers would be good news to any artist, when you look at debut week sales for Tomlin's first release, "Not to Us" ("Arriving" more than quadrupled sales), it proves all the more just how popular this young worship artist is becoming.
With that kind of clout, you wouldn't think he'd have had trouble getting the producer he wanted onboard to helm. But that wasn't the case when Tomlin asked Ed Cash (Bebo Norman, Caedmon's Call, Bethany Dillon) to take on the project. According to Tomlin, Cash didn't think modern worship songwriting was up to par with "regular" songwriting; so he was hesitant to sign on. But Tomlin eventually convinced him, and the result is what Tomlin describes as his personal "best, without a doubt."
"I just wanted someone who really had a passion for the songs, not someone who just can make it sound good and has great bells and whistles," he explains. "Ed Cash was that guy for me. He's a great songwriter himself with great ideas, and he really brought out the best from the band as they played. He really caused me to grow because he challenged me to write the very best songs I could that would stand up to any song out there. There were amazing times in this recording where we would just get lost in worship to God and moments with God that were really beyond the songs."
For Tomlin, moments like those have come fairly often. The worship leader, who got his start in 1997 performing at Louie Giglio's "Passion" college events, has founded his career on such large group gatherings. He is also signed to sixstepsrecords, the record label Giglio founded four years ago. And in early 2003, he became a founding member and worship leader of the Austin Stone Community Church in Austin, Texas.
But his path to becoming a worship leader was a long time coming. "Since I was in high school, my heart has been to write songs for the church," he says. "It has been to write songs for people to sing and to play and to respond to God."
And, according to Tomlin, not just any worship song will do. "There are lots of songs out there in the name of worship songs that are really badly written," he notes. "They are uninspiring, and they just do the same thing over and over and over again. Some of the new songs are written, and they are not going to last. My thing is that worship music is Christian music in its purest form." And Tomlin seems to have found that perfect balance as evidenced by the radio success he's already seeing with "Indescribable," the first single off "Arriving" that's already hit the top 5 on Radio & Records and Christian Radio Weekly's charts.
"The beautiful thing about worship music is that God is at the center," he continues. "It comes out of all artists who are really living out their faith and their relationship with Jesus because they can't help but worship Him in their songs. We stand in a long line of people who have gone before us. The style and the way it's done, whether it's from the tradition of the old or the new, changes. But the spirit of it is never changing. What's important to me is putting out songs that the church can sing. It's fresh and profound, and the church can really grab onto it. That's my heart in making music."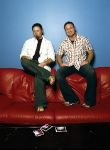 Shane & Shane:  Surprised to Be Here
If Chris Tomlin is on one end of the spectrum with having a clear sense of purpose since high school, Shane Barnard and Shane Everett of Shane & Shane would land on the opposite end.
"We just fell into this deal," says Everett. "We never thought we would do this as a living. I got saved in 1997 and after about three months, I was doing this full time. People would call, and we would go. First, it was playing a couple days a week; and in the last couple years, it's almost 300 dates. It's just been insane."
The two met while attending Texas A&M University. Barnard, who had not considered being a musician until becoming a Christian in high school, made his stage debut as part of a musical festival at the college. Everett, also a fairly new Christian and musical late bloomer, was there as well; and the Shanes became fast friends. Within a few months they also became collaborators, performing and writing together with Barnard on lead vocals and acoustic guitar and Everett on backing vocals and electric guitar.
Like Tomlin, the core audience for Shane & Shane remains a strong following of collegiate listeners. But instead of playing big worship rallies, Shane & Shane built support through smaller, mostly acoustic concerts that were usually held on college campuses or in churches.
But smaller concerts have certainly not translated into a smaller following for these two. Three independent projects were released before the national release of "Psalms" (Inpop) in 2002. The next year's follow-up, "Carry Away," was the record that put Shane & Shane on the map and earned a Top 10 debut on Christian album sales charts and a coveted impression upon the overall Top 200 album listing in Billboard magazine. Christian radio supported the tracks "Be Near" and "Mercy Reigns," Dove nominations rolled in, and the duo headlined a major national tour this year that featured Ginny Owens and Shaun Groves. This summer the quickie, acoustic "thank you" disc for fans, "Upstairs," was released to satiate demand until the release of "Clean" this fall.
And though their music career has been successful and seemingly well-planned, both admit their surprise at the course their lives have taken. "Music has such a small part to do with both of our backgrounds," reveals Barnard. "Music has never been my hobby or my passion, and I never thought music would be my 'thing.' It has been very supernatural; it has been kind of weird and at the same time very sovereign and cool."
Everett concurs, "We are not even writers by nature. A song will pop out basically just from what the Lord is teaching us through His Word or [from] something our pastor says that kind of strikes us."
But while their musical backgrounds may not be extensive, Barnard and Everett are determined to make a point of improving on their natural talents of performing and songwriting. "Over the years of doing this, you gain an appreciation for the art of music and musicality," states Everett. "When we first started I didn't even know what the note was. It was just, 'OK, that sounds good.'" He laughs, "If you go back seven years to the first record, it now sounds like it should have never been recorded."
"I have never really been able to pursue or enjoy the way I've been gifted," adds Barnard. "I have no idea how to play music at this point; it's just kind of on the 'fly' and here and there. I have wanted to study for a long time, and that desire is huge for us."
Building a studio upstairs from their home office provided a first step toward beefing up the creative process. For this most recent release, "Clean," they gained an ability to perfect it at a pace rarely possible when studio time is booked at an outside location. "We didn't have all the restrictions and deadlines that we usually have with recording," Barnard happily recalls. "We took one song at a time and just worked it from start to finish and track to track. Musically speaking, I think it is our most creative and interesting and, maybe, fun record."
Thematically there is a tighter cohesion to Clean as well, with a slant toward the unfailing and unmerited grace of God. According to Barnard, a good cleansing from God's Word makes it possible to regain sight of the nature of that grace. "I think a lot of these songs were just going back to those backbone Scriptures of God and the backbone Scriptures in my life, where I look and go, 'This is what is really going on,'" says Barnard. "It was the Scriptural themes of brokenness and dependency on God who delights in saving us, His salvation, His sanctification and His purifying us."
So does Shane & Shane classify its music as "worship"? Says Everett, "I think we kind of live in irony because that term is so broad. I think what the Lord has given us the opportunity to do is to help facilitate and encourage. We tour around and do concerts and sell tickets. Hopefully, it is a worship experience for everyone."
He adds, "I hope that the Lord does transcend through the music because mostly what we sing is straight Scripture; and that, in itself, is wonderfully powerful and wonderfully alive. I think people come not just expecting an experience but an encounter with God. Hopefully an individual comes to salivate for God a lot more than to salivate for a guitar strum."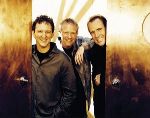 Phillips, Craig and Dean:  A Welcome Homecoming
For many artists these days, doing a worship record is a "side" project from their normal musical fare. But for veteran group Phillips, Craig and Dean — featuring Randy Phillips, Shawn Craig and Dan Dean — making a praise & worship record ("Let The Worshippers Arise") was like coming into their own for, what felt like, the first time in a long time.
"Praise & worship is something we have always done," says Phillips. "We have always incorporated worship because we are worship pastors at our churches. When we would go on the road, we treated the audience like a congregation; and we would try and lead them into worship. A lot of our songs could be considered worship by today's standards."
Yet Phillips does admit these projects did provide an exit from image consciousness and an artistic rut. Hard as the group tried — and, according to Phillips, the efforts were quite intense — Phillips, Craig and Dean, which in years past garnered 18 No. 1 radio hits, was never quite trendy enough for the industry in later years or for itself. This led to tension within the group and, eventually, a creative roadblock.
In time, the men accepted their standing and decided to simply relax and do what they do best — lead others into worship. Ironically, by shifting the focus to worship, they gained the relevance that had previously been elusive.
"We were stuck in a sound we just couldn't get loose from," recalls Phillips. "Yet praise & worship music crosses so many barriers, and there was a whole new audience listening to our music. A lot of that is a credit to our producer Nathan Nockels (of Watermark). That guy is good, and he is fresh; and he put a fresh spin on us."
Younger listeners did tune in for the first time, but the biggest "score" was with core, "mature" listeners who could appreciate worship music but not the newer, edgy music. On being a conduit for bridging a gap to older listeners, Phillips laughs and says, "Well, we are not Bill Gaither! If our audience is mature, what is Bill's?" He adds, "It doesn't bother us at all. If we were instrumental in bringing more cutting-edge praise & worship to a more traditional setting, that's great. If that was our mission, then it was worth it."
Scanning the credits of "Let The Worshippers Arise" makes it clear that the group is set on that musical mission. The trio remains at the forefront and has a few songwriting credits, but notable names from the modern worship world stand out. Nockels contributed in musical ways as well, and his wife and Watermark co-member, Christy, is a duet partner on "Mighty Is the Power of the Cross." That song was co-written with Chris Tomlin and is also featured on his latest, "Arriving." "Making Melody" was crafted by Matt Redman, and the title track was penned by Michael Ferrin, who also wrote the Michael W. Smith recorded "Let It Reign."
For Phillips, Craig & Dean, strictly worship recordings will probably wrap up with this album (which follows "Let My Words Be Few" and "Let Your Glory Fall"). However, praise songs will remain a prominent part of the trio's future output, just as they always have.
"Truthfully, we do bring something to the table that other artists do not," says Phillips. "Not only that we are pastors, but we have lived long enough to see a good life and then some tragic things. We know people are there suffering, so they become like our congregation in the fact that we have a responsibility to take them to the throne room for an hour and a half or two hours."

© 2004 CCM Magazine.  All rights reserved.  Used with permission.  Click here to subscribe.