WOW Christmas - Music Review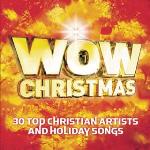 Artist:   Various
Label:  Word Entertainment
"It is what it is."  That pretty much sums up WOW Christmas with its 31 Christmas tracks to get you through the holiday season.  The two-disc set covers holiday music from all the heavies in contemporary Christian music—handpicked from artists' individual Christmas collections that have been released over the last 10 or so years.
On several listens you'll find tracks that are old and new, plus several oddities starting with Avalon's over-the-top "Winter Wonderland" (from 2000's Joy:  A Christmas Collection) on Disc 1.  Other tracks that you'll either love or hate right off the bat are Jaci Velasquez' syrupy sweet "Let It Snow, Let It Snow, Let It Snow" (from 2001's Christmas), Stacie Orrico's stuck-in-first-gear "O Come All Ye Faithful" (from 2001's A Christmas Wish), and Rachael Lampa's youthful take on "Ave Maria".  The latter arrangement with a dreadful nasal-y vocal interpretation doesn't even begin to do justice to the reverent anthem.  And lest you think I'm bashing all young female divas on the two discs, I did enjoy ZOEgirl's dance-party-worthy "Angels We Have Heard on High" and Out of Eden's smooth "O Little Town of Bethlehem". 
Thankfully, urban and black gospel are covered courtesy of stellar stand-outs from CeCe Winans ("Away in a Manger" from 1998's His Gift), the exuberant Soulful Celebration ("Hallelujah!" from 1992's Handel's Messiah:  A Soulful Celebration), Kirk Franklin and the Family ("The Night That Christ Was Born" from 1995's Christmas), and Fred Hammond ("Go Tell It on the Mountain" from 2001's Fred Hammond Christmas…Just Remember).
Then, there are always the wild card tracks—Sixpence None the Richer's "Christmastime Is Here", Audio Adrenaline's "Little Drummer Boy", and tobyMac's "This Christmas (Joy to the World)" (from 2002's This Christmas).  All three add the left-of-center kick to WOW Christmas that Christian music in general just might need.  Repeat worthy tracks include MercyMe's "What Child Is This", 4Him's "A Strange Way to Save the World" (from 1996's The Season of Love), Amy Grant's "Breath of Heaven (Mary's Song)" (from 1992's Home for Christmas), and Nicole C. Mullen's "O Come, O Come, Emmanuel" (from 2002's Christmas in Black in White).
Besides the standouts, the real beauty of WOW Christmas has got to be the "31 for 2" bargain:  thirty-one holiday songs from top Christian artists, all on two discs.  Now that's a WOW worthy of your Christmas dollars.

Buy WOW Christmas now at www.lifewaystores.com!