Ducks, Beards, and Jesus
Tiffany Owens

WORLD News Service

2013

18 Mar

COMMENTS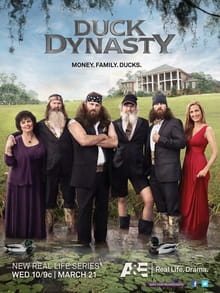 When A&E launched the reality TV show Duck Dynasty four years ago, they gave it a catchy tagline: "Money. Family. Ducks." But those who buy a show poster from the Robertson family's Duck Commander store in West Monroe, La., will notice the slogan's slightly different.
"We 'X' out 'money' and write in 'faith,'" Alan Robertson, the eldest Robertson son, told The Christian Chronicle.
Now in its third season, the docu-drama continues to draw millions of fans. During its most recent Feb. 27 season premiere, more than 8 million viewers tuned in and ratings skyrocketed. The show follows the Robertson family as they run their multi-million dollar duck-hunting supply business. Company founder Phil Robertson started carving duck callers from a rundown family shed in 1972 and founded the business formally in 1973.
But the modified tagline on those posters reveal the tension over how Dynasty's producers handle the family's Christianity on air. Alan, who does not appear on the show, said producers continually brush it under the rug, even though it's a significant part of their story. Last month Willie, Phil's third son, told The Blaze faith is the most important thing in the family's life: "Everything revolves around it: our marriages, our families, our business."
Phil became a Christian in the 70's and raised his sons in a Christian home. Today, they share about their faith with friends and family and during national speaking engagements. Even the most rugged of the crew, Phil's younger brother, Uncle Si, brags that he never goes anywhere without a gallon of ice tea, a blue cup (a keepsake from his war days), and his Bible.
SEE ALSO: Father Brown a Spirited Mystery
A&E first broadcast the bearded businessmen in 2012 and have attracted millions of fans nationwide who tune in every Wednesday night to watch the Robertsons navigate hunting adventures, family life, and business management.
But the producers are uncomfortable with the mentions of God. Al said they've edited out a lot of the faith content and even added "bleeps" in the first two episodes to make it seem like the family cussed, when they didn't. When the family prays for the food at the end of each episode, producers edit out "in Jesus' name."
But the family presses on with its new-found publicity.
"It's a total mission and ministry," Phil's wife Kay told The Chronicle. "We're so blessed for what we can get in there. That's really unknown in today's TV on a regular, big TV network like that."
SEE ALSO: The Bible Miniseries a "Labor of Love"
*This Review First Published 3/18/2013