MISSION ACCOMPLISHED! 
Near the end of his life, pastor Robert S. McArthur was speaking in Baltimore, Maryland. He began his message with these words: "As you can tell, I've just about finished the course. I hope that when I come to the end, I'm as thorough in the accomplishment of my life's purpose as three boys I saw in Birmingham, Alabama, many years ago." Then Dr. McArthur told a story about preaching in a Birmingham church and watching three teenage boys acting up in the balcony. It seems a gentleman on the lower floor had fallen asleep with his mouth open and his head back, and these boys spent most of the sermon trying to toss spitballs into this man's mouth. "I couldn't keep my eyes off of them," he said. "They tossed spitball after spitball until I heard a cough and a gurgle, and the man sat up with a start. I knew then they had accomplished their mission! After that they were satisfied, and leaned back and listened to the rest of my sermon."
Mission accomplished. What a thrill to be able to say those words at the end of life. Jesus did. He knew he had accomplished the work set before Him by the Father. Paul said them, too. "I have fought the good fight. I have run the race." Those who can say "mission accomplished" live every moment of every day with their mission in mind. They are focused. They are single-minded. They are compelled by a higher call. Are you living in such a way that when the end comes, you, too, can say "mission accomplished?"
MEMORY VERSE 
JOHN 17:4 I glorified thee on the earth, having accomplished the work which thou hast given me to do.
READ THROUGH THE BIBLE 
Click here to sign up for your free Winning Walk newsletter!
OUR THANK YOU TO YOU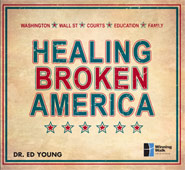 Healing Broken America
CD Series