April 4
Go On to Completion
Philippians 1:6—For I am confident of this very thing, that He who began a good work in you will perfect it until the day of Christ Jesus.
What God starts, God finishes. That's His promise to you, if you are His covenant child through Jesus Christ. But spiritual development is like physical growth, dependent on your cooperation. Stop eating and exercising, and your growth will be stunted. Many people desire a peaceful heart above all. However, we must allow the restless heart to motivate us to one filled with peace. Press into God's promise of completion by allowing Him to develop your whole being through feasting on His Word and "working out" your salvation (Philippians 2:12).
Click here to sign up for your free Winning Walk newsletter!
OUR THANK YOU TO YOU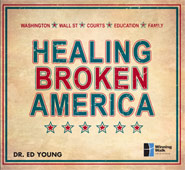 Healing Broken America
CD Series