April 8
Go On In God's Mercy
Hebrews 8:12—"FOR I WILL BE MERCIFUL TO THEIR INIQUITIES, AND I WILL REMEMBER THEIR SINS NO MORE."
"I'm sure you noticed I left you out of my prayers," said the whiny little boy to his parents as he crawled in bed, offended by their discipline. He was unwilling to let it go. When God forgives us, He no longer lets our sin influence His feelings toward us. He lets it go. The disciples crushed Jesus' heart that night in Gethsemane when they snored while He wept. But Jesus didn't let the failure of His followers influence His future fellowship with them. God's promise of mercy includes the dismissal of every offense we've committed against Him.
Click here to sign up for your free Winning Walk newsletter!
OUR THANK YOU TO YOU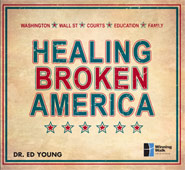 Healing Broken America
CD Series