GIVING YOUR BEST 

It is true that we reap what we sow, but this verse from Luke also hints at another spiritual truth: sometimes we reap more than we sow. The wise man or woman knows that giving is not the occasion for stinginess, because the goodness that we sow in giving often comes up in areas we never dreamed.

My son Ben illustrated this for me at a very young age. When he was boy, Ben's best friend was a little guy named Greg. One day Ben came home from playing with Greg, and Jo Beth realized he'd left something behind. "Ben," she asked him, "where's your favorite car—the little blue one you like so much?"

He kind of shrugged and said, "I gave the blue one to Greg." When she asked him why, his explanation made perfect sense. "Mom, I thought you were supposed to give what you like the most." You see, Ben loved his friend Greg, but Greg was not a Christian. But years later, Ben won Greg to Jesus Christ. Then Greg went home and won his mother and dad to the Lord. And his mother and father won his grandparents to Christ. Greg's sister subsequently became a Christian, and now Greg is the pastor of a church in South Carolina. We reap more than we sow. When we give our best—even if it's only a little—God multiplies our gift in ways we could never imagine…for our good and for His glory. So give!

MEMORY VERSE 

Give and it will be given to you; good measure, pressed down, shaken together.

READ THROUGH THE BIBLE 

Genesis 25; John 14  
Click here to sign up for your free Winning Walk newsletter!
OUR THANK YOU TO YOU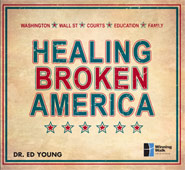 Healing Broken America
CD Series