OUR GOD IS AWESOME 

Real worship begins with awe of God—not a frightened fear, but a reverent fear. Anyone who has lost this awe for who God is and what He has done has lost the ability to worship.
My granddaughter LeeBeth taught me a great deal about this in Disneyworld, of all places. Her "Mimi" and I had taken her to the theme park, and after a long day, settled into our room. I noticed a card by the phone that said at 10:00 p.m., there would be a parade on the lake outside our window, complete with lighted boats and fireworks. I casually asked LeeBeth if she might like a parade before we turned in. She thought I was teasing, but I insisted this was serious, and pretended to phone room service to request our parade. (It was almost 10:00.) Then I pulled the drapes open, and started counting, and before I could say "three" there were lights and rockets and the sounds of a parade. Her face filled with wonder and awe. I felt like a king. (Thank you, Disney.)
LeeBeth at sixteen would not have been awed that her "Goosie" (that's me) had ordered a light parade. But at six, she was. If God does not "wow" us, if wonder at Him does not move us to gratitude, something is deeply wrong with our hearts. I agree wholeheartedly with the man who said he pitied the atheist because he had no one to thank for the good things he received. Have you thanked Him today?

MEMORY VERSE 

You who fear the Lord, praise Him...and stand in awe of Him all you descendants of Israel.

READ THROUGH THE BIBLE 

Genesis 37; John 19 

Click here to sign up for your free Winning Walk newsletter!
OUR THANK YOU TO YOU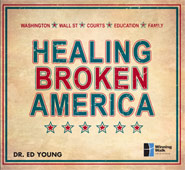 Healing Broken America
CD Series