NONE RIGHTEOUS 

It is relatively easy for us to recognize sin in one another. It is much more difficult to recognize it in ourselves. But "none of us is righteous," Paul tells us, "not even one." We tend to think of ourselves as the exception, but when it comes to sin, there are no exceptions. Until we understand the holiness of God, however, it is almost impossible for us to see clearly our own sin.
Years ago the London Times ran an article encouraging its readers to respond to the question, "What is wrong with the world?" It encouraged its readers to respond. I am sure the editor must have read the following reply more than once before its profound truth sunk in:
Dear Sir:

In response to your question, "What is wrong with the world?", I am.

Yours Truly,

G. K. Chesterton

We are what is wrong with the world! God's standard is absolute righteousness, and when we begin to see His holiness, we understand our own impossible shortfall. No matter how skilled we may be at hiding our sins, we cannot make them disappear. Only God is able to save us, and His opinion of us—His assessment of our hearts—is the only one that matters.

MEMORY VERSE 

AS IT IS WRITTEN, THERE IS NONE RIGHTEOUS, NOT EVEN ONE. ROMANS 3:10
READ THROUGH THE BIBLE 

Genesis 4; John 3  
Click here to sign up for your free Winning Walk newsletter!
OUR THANK YOU TO YOU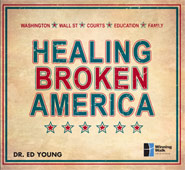 Healing Broken America
CD Series