IT'S A SALVAGE OPERATION 

Several years back I was on the interstate and my car just ceased operation. The red dashboard light that says "HOT" came on, I slowed down, coasted to an exit and lifted the hood to a cloud of smoke. Not a good sign. It was a short walk to a garage that towed my car in, and the problem turned out to be a belt that had come loose. They put the belt back on, did a few other tweaks, and before you know it, my car was salvaged: it was restored to the purpose for which it was intended, i.e., for driving.
That's what salvation is. It's a salvage operation. Through the blood of Jesus Christ, lives are restored to the purpose for which they were made. Some people think salvation is merely a supernatural insurance policy that reserves a place for them in heaven. But when we are saved, we begin to fulfill the purpose for which we were made, right here and now. My car was made to transport me…to get me somewhere. When it ceased to function, it had to be salvaged…saved. It's easy to become bogged down in theological terms like "salvation," and "sanctification" and "propitiation." But Jesus is in the salvaging business, plain and simple. New lives for old. It doesn't get any clearer—or better—than that, does it?

MEMORY VERSE 

THERE IS SALVATION IN NO ONE ELSE; FOR THERE IS NO OTHER NAME UNDER HEAVEN THAT HAS BEEN GIVEN…BY WHICH WE MUST BE SAVED. ACTS 4:12

READ THROUGH THE BIBLE 

Genesis 8; John 5  
Click here to sign up for your free Winning Walk newsletter!
OUR THANK YOU TO YOU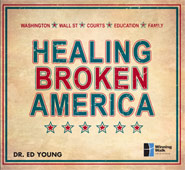 Healing Broken America
CD Series