WHEN GOD SEEMS FAR AWAY 
Elie Wiesel was 15 years old when he was captured by Nazis and sent to Auschwitz concentration camp. Wiesel, a Jew, and another man, a Dutchman, were caught with a cache of arms and sentenced to be hanged. Also implicated in the crime was the Dutchman's young servant. When this boy refused to cooperate with the Nazi's, he too,was sentenced to be hanged. Wiesel tells the story of this child in his own words: "Three victims in chains. One of them they called little boy, the Angel, the Sad-eyed Angel. The head of the camp read the verdict. All eyes were on the child. He was liquidly pale, almost calm. Three victims together were mounted on the chairs. Three necks were placed in the same moment within the nooses. "Where is God? Where is He?" someone asked behind me. At a sign from the head of the camp, the chairs were pushed over. Total silence throughout the camp. The two adults were no longer alive…but the third rope was still moving. Being so light, the child was still alive. For more than half an hour he stayed there struggling between life and death, dying in slow agony under our eyes. Behind me I heard the same man asking, "Where is God now?" And I heard a voice within me answer him, "Where is He? He is here. He is hanging here on this gallows."
In every dark night of the soul, God is present. For every son and every daughter, He is there. Through His death on the cross, Jesus forever identified with the anguish of all mankind, and provided a way through when life bottoms out.
MEMORY VERSE 
PSALM 22:1 My God, my God, why hast thou forsaken me? Far from my deliverance are the words of my groaning.
READ THROUGH THE BIBLE 
Click here to sign up for your free Winning Walk newsletter!
OUR THANK YOU TO YOU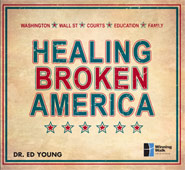 Healing Broken America
CD Series