FIGHTING FIRE WITH FIRE
We have all heard the expression "the way to fight fire is with fire." I've heard it all my life, but it came alive for me in a new way when I heard a story told by Norman McLean about a Montana smoke jumper who did just that. Wag Dodge was one of 15 smoke jumpers who were sent to battle a forest fire in August of 1949. Shortly after their jump, these tenacious, well-trained, young men were surrounded by an inferno. As the wind shifted 180 degrees and picked up velocity, what had been a manageable fire became what is known as a blow out. The only way to safety was to race 200 yards to the top of a ridge—quite literally, to outrun the fire. When Dodge realized the fire would overtake them, he screamed to his men to stop and gather around him. Most did not hear, and were overcome. Then, with fire racing toward him, Wag Dodge lit a fire of his own and followed it, then circled back and laid down in the grass it had burned. When he did, the flames went around what had already been scorched, leaving him safe on the ground. He fought fire…with fire.
We are surrounded on every side by the super-heated flames of our culture. How do we fight them? The way this young smoke jumper did. We set our own fire. And as the fire of our devotion to Christ begins to burn, our God who is a consuming fire, burns brighter and stronger than the flames of this fallen world. We fight fire with fire!
MEMORY VERSE 
For the Lord your God is a consuming fire; a jealous God.
READ THROUGH THE BIBLE 
Click here to sign up for your free Winning Walk newsletter!
OUR THANK YOU TO YOU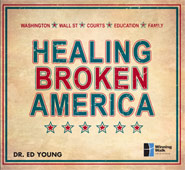 Healing Broken America
CD Series