DIRTY LAUNDRY 
I am thankful that segregation is a thing of the past in America. But I am not so foolish as to think that the prejudice behind it has been eradicated. A film called "Once Upon a Time When We Were Colored" movingly depicted those not-so-distant days of segregation and their impact.
A young, black boy raised by his grandparents was promised his first trip to town with granddad. He cleaned up, put on his best clothes and climbed into the car for his journey. On the way, his granddad stopped for gas. The boy needed to use the restroom, and was halfway there when he was called down by the white gas station owner. "Boy, you can't go in there. There's no place for you here." His grandfather quickly got him back in the car, paid for his gas, and left. Once they were back on the road, he explained to his grandson that they would stop somewhere else for a bathroom break, and that he would let him know when and where. Then he took an old paper bag, and drew a big "C" on one side, and a big "W" on the other. "Now boy," he said, "this "w" is for other people, not for us." He turned the sack over. "But this "c," is for us. When you see a "c", it's okay to go in, or get a drink, or whatever. But if you see a "w", you keep away. Understand?" The boy nodded yes, and took the bag. Every few miles he would turn it over and back again.
When they got to town, the old man got groceries, and the boy began to look for something to buy with the coins in his pocket. Soon he was thirsty, and spied a water fountain. Approaching it carefully, he pulled the paper sack out of his back pocket. He looked at the "c" and the "w" for a long time, then drank from the fountain whose sign said "Colored." As he ran back to his granddad he said, "How'd I do grandpa?" The granddad shook his head with tears in his eyes and said, "You did good, boy. You did good."
MEMORY VERSE 
ACTS 10:28 Yet God has shown me that I should not call any man unholy or unclean.
READ THROUGH THE BIBLE 
Click here to sign up for your free Winning Walk newsletter!
OUR THANK YOU TO YOU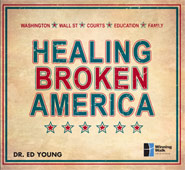 Healing Broken America
CD Series