THE SUFFERING OBJECTION 

Storms are a part of life. You needn't live long to discover that life's storms can take many forms. Physical pain is a storm. So is mental or emotional distress. And storms hit the houses of good people.
In the movie Shadowlands, Anthony Hopkins portrayed British author C. S. Lewis, whose wife died soon after their mid-life marriage. In one scene from the film, a minister tries to give Lewis a "God-knows-best" kind of pat answer, and Lewis explodes. "No!" he shouts. "This is a mess, that's all anyone can say. It's just a mess." Christians believe in a loving, personal God who cares about His creation, and the Bible teaches that God is all-powerful and able to do anything. Given those two suppositions, it's no surprise that non-believers balk when Christians suffer. It doesn't add up.
Rabbi Harold Kushner concluded in his book When Bad Things Happen to Good People that God cares about our suffering, but is powerless to do anything about it. Eli Wiesel said of the God Kushner described, "If that's who God is, why doesn't He resign and let someone more competent take His place?" The answer to this dilemma lies in a thing called free will. God could intervene 100% of the time and rescue us from the fallen-ness of the world and the consequences of our own choices, but to do so would rob us of the free will to love Him. The deeper truth is that He is present in the suffering, and in His sovereignty He is able to make all of it work together for good to those who love Him. No sorrow leaves us where it found us. It drives us from God, or draws us near to Him…but that choice is ours.

MEMORY VERSE 

And the rain descended, and the floods came, and the winds blew, and burst against that house; and it fell...

READ THROUGH THE BIBLE 

1 Timothy 6; Psalms 139  
Click here to sign up for your free Winning Walk newsletter!
OUR THANK YOU TO YOU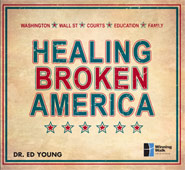 Healing Broken America
CD Series