HITTING BOTTOM 

The twelve steps of Alcoholics Anonymous are deeply rooted in Biblical authority. These steps that have helped millions were
conceived when two recovering alcoholics from Akron, Ohio, hit bottom, and began to seek spiritual solutions for their battle.
The first step of the twelve step program is the one that led these men to find a way to stop drinking: you have to hit bottom to
wake up and realize you are in real trouble.
Psalm 38 is the sound of a man hitting bottom. The psalm was written by King David after his sin with Bathsheba. It records the suffering of sin, the penalty of sin, the incredible loneliness of sin, and the confession of sin. I wonder how many today would read its words and say, "This is my song. This is my life?"
Healing begins when a man or woman is able to say, "My life is unmanageable. I'm in a flat spin, and I cannot recover on my own
power." But because we are so intent on trying to maintain control and present an untarnished image, this is difficult to do. Instead, many of us wind up trying to exercise control over others, too, using money, anger, helplessness or other forms of dysfunction. Amazingly, we even try to control God. Isn't it ironic that the way to victory is not to maintain control, but to acknowledge we have lost it…or never had it at all?

MEMORY VERSE 

For Thine arrows have sunk deep into me, and Thy hand has pressed down on me.

READ THROUGH THE BIBLE 

2 Timothy 3; Psalms 145
Psalms 145Click here to sign up for your free Winning Walk newsletter!
OUR THANK YOU TO YOU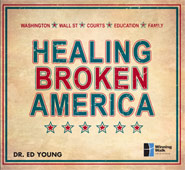 Healing Broken America
CD Series