GOD LOVES RAGAMUFFINS 

Former alcoholic Brennan Manning writes in his book Ragamuffin Gospel that the only way anyone can be healed of any addiction or compulsive behavior is to admit—up front—to being a ragamuffin. Manning says we must lose all arrogance and ego, and stop pretending to be better than we really are. To illustrate this, he tells the story of a man named Max.

Max was a first-time attendee at an AA meeting in a small Minnesota town. The other twenty-five or so group members placed Max in the middle of a circle of chairs, and he was introduced to them by group leader Murphy O'Connell. Max was a wealthy small business owner—very polished, very articulate, very confident. Murphy's first question to Max was, "How long, Max, have you been drinking like a pig?" Max was offended and said so. He shared his drinking habits—seven or eight cocktails a day—and insisted his drinking was not a problem. The group members peppered him with questions, and he maintained his veneer—and his pattern of denial. As the questioning went on, Max admitted to hiding liquor, neglecting his children, and lying to his wife. But he still hung on to his pride and managed to keep dignity about him—until Murphy called his bluff by calling Max's neighborhood bartender to find out what kind of drinker Max really was. Afterwards, Max lost his cool. He screamed. Cursed. Shook his fist at Murphy and the rest of the group. Then he fell to the floor in a fit of rage. Murphy rose, and the rest of the group followed. "Let's get out of here," he said, then he nudged Max's form on the ground. "You are scum," he said. "Get out of here. I don't want to see you again. We don't have room for liars." Later on that day, Max begged to be reinstated. He got honest, and he got humble. He admitted he was nothing but a ragamuffin, and God did a work in his life.

It's not easy to get honest and humble. But if you can, God can begin to heal even the sorriest ragamuffin.

MEMORY VERSE 

ROMANS 4:25
He who was delivered up because of our transgressions, and was raised because of our justification.

READ THROUGH THE BIBLE 

1 John 1; Psalms 148 
Click here to sign up for your free Winning Walk newsletter!
OUR THANK YOU TO YOU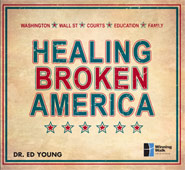 Healing Broken America
CD Series