A SEARCHING MORAL INVENTORY 

My dad ran a country store. Once each year we'd close down the store to take inventory…and inventory was no fun. Everything had to be counted: nails, potatoes, rope, everything. The work was tedious. Time-consuming. Exacting. I think of this dreaded process every time I hear the word "inventory."
But what about taking an inventory of your life? Have you ever gotten still and quiet for the purpose of examining your life, letting God shine His holy light into your very heart? It's not everyone who can be bold and adventuresome enough, faithful and honest enough, to take a searching and fearless moral inventory of his or her life. A person's willingness to do so is an indicator of that willingness to grow.
If you believe you are ready to blast out of comfortable Christianity, to hear the sound of the trumpet in the morning, to begin to walk in a new kind of life that you've never known before, let me encourage you to take inventory. Begin with the classical seven deadly sins. Evaluate your victories and failures with regard to each, making notes as you go through them thoughtfully and thoroughly. The sins I'm referring to are these: Slothfulness or laziness. Gluttony. Greed. Lust. Envy. Anger. And the deadliest sin of all: pride. How about it? Are you ready for inventory?

MEMORY VERSE 

Therefore consider the members of your earthly body as dead to immorality, impurity, passion, evil desire, and greed...

READ THROUGH THE BIBLE 

3 John 1:1-14; Jude 1; Luke 1 
Click here to sign up for your free Winning Walk newsletter!
OUR THANK YOU TO YOU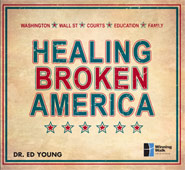 Healing Broken America
CD Series