WHOSE BIRTHDAY IS IT, ANYWAY? 

There was once a land that was backward. Everything was switched, everything seemed just a little off-kilter. In this place, the
children didn't play football, they played knee-ball. Kids did not go to schools; teachers went to homes. In this unusual place,
trees and flowers bloomed in the winter, and lakes froze in the summer. And in this place, a little guy named Jason had a
birthday.
His grandparents came, but he never saw them. His mother baked a birthday cake, but she gave it to the
mailman. All of Jason's friends gave presents to each other—not to Jason—in honor of Jason's day. Finally, he'd had all he
could take. Jason got a megaphone, got on his bike, and rode through the main street of town, saying, "Whose birthday is it,
anyway? Whose birthday is it, anyway?"

Some folks miss the point of Christmas. Oh, decorations are displayed. Parties
are attended. Gifts are bought and exchanged. But somehow it never dawns on them that it is someone's birthday. And that
someone is Jesus Christ. How about you? Have you missed Christmas because you've missed Jesus Christ? He is God's gift to
you. Jesus Christ the Savior came to forgive us and cleanse us of all our sin. Have you received Him? And if you know whose
birthday it is, what gift do you have for Him this Christmas? Does the One who has everything have your heart? Why not give
Him that?

MEMORY VERSE
 
MATTHEW 1:21
…She shall bear a Son; and you shall call His name Jesus, for it is He who will save His people from their sins.

READ THROUGH THE BIBLE 

Luke 13; Revelation 10 
Click here to sign up for your free Winning Walk newsletter!
OUR THANK YOU TO YOU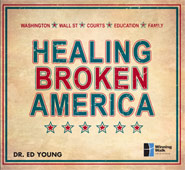 Healing Broken America
CD Series