AWAY IN A MANGER 

"Away in a manger, no crib for a bed, the little Lord Jesus lay down His sweet head…" We sing such warm words about the manger, and have such loving thoughts toward the little baby it held. But we shouldn't try to keep Him there. He is no longer a baby, but a king. He is not in the manger anymore. He lives in us.
Class 202 was full of wealthy children from old-money families. Their teacher loved them, and knew each one well. One day, a new child came to class. He was not like the rest of the children. His clothes were old and mended. He needed a haircut, and he didn't smell very good. He arrived with a note from the principal, explaining that he was the son of a migrant family of fruit-pickers, admitted as a goodwill gesture in hopes of generating favorable publicity for the school. His name was Daniel; he would only be in school for a short while.

In class, the other children snickered at him, but at recess, Daniel's stock went up. He led off the kickball game with a homerun, and followed with a double. When the worst player on the team came to bat, the other children groaned, but Daniel encouraged him. "Don't let them bother you, kid. Step up there and kick it—you can do it!" At that moment, Daniel became more than "the new kid." He became a leader.. It wasn't long before the whole class gravitated toward Daniel. At Christmas the teacher received the usual expensive gifts from her students. On the last day before holiday break, Daniel stayed until everyone else had gone. He came to the teacher's desk with a polished rock and said, "This is for you. I found it and cleaned it up real nice. And teacher, tomorrow we're moving on…but I'll miss you." She never saw Daniel again, but this teacher told her students his story each year at Christmas. Inevitably, one of them will say, "I wonder where Daniel is today? I bet he's somewhere real good!" She always says she thinks so, too…and then whispers to herself, "He's in my heart."

MEMORY VERSE 

And she gave birth to her first born Son; and she wrapped Him in swaddling clothes and laid Him in a manger...

READ THROUGH THE BIBLE 

Luke 15; Revelation 11 
Click here to sign up for your free Winning Walk newsletter!
OUR THANK YOU TO YOU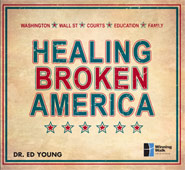 Healing Broken America
CD Series