THE HYPOCRITE OBJECTION 

"Christians are not perfect," a popular bumper sticker reads, "just forgiven." Christians are also the excuse many non-Christians give for not following Christ. The unbeliever's standard of performance for those who profess Christ is often nothing short of perfection. You've heard the charge when a Christian misses the mark: "What a hypocrite! If that's what it means to believe…count me out!"
But that is unfair on two fronts. First, it represents an inaccurate understanding of what it means to enter into the Christian life. Authentic Christians have made the decision to follow Christ, to turn away from their willful disobedience and rebellion against God, and to accept Jesus' death on the cross as payment for their sins. They have accepted God's leadership in their lives and begun the journey of walking under His management. But they have not arrived at a sinless state—nor will they in this life.
Second, the true hypocrite is not someone who falls short of his or others' expectations, but one who consciously and knowingly wears a mask. Follow me for a day, and I will disappoint you. Although I love my wife deeply, I fail daily in being the husband I'm supposed to be. I love my children, too, but I have made mistakes in parenting. I love God and urge others to do the same, but I remain a sinner who struggles with sin and sometimes loses. The good news is that authentic Christianity does not demand perfection—it depends on grace. I am thankful that Jesus is the real issue, not the imperfections of those who love and follow Him.

MEMORY VERSE 

Do not judge lest you be judged.

READ THROUGH THE BIBLE 

1 Timothy 5; Psalms 137  
Click here to sign up for your free Winning Walk newsletter!
OUR THANK YOU TO YOU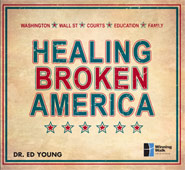 Healing Broken America
CD Series