COSTLY WORDS 

When God forgives, He always gives. God follows His forgiveness with giving every time. We humans do just the opposite, don't we? We forgive, then put the ones forgiven "on probation," letting them linger just outside the warmth of fellowship until we're certain they've suffered enough. The father in the story of the prodigal son forgave like God forgives. When he welcomed his son home, he didn't just say "you're forgiven," he gave gifts symbolic of sonship and restoration. He even threw a party and celebrated.
There's an entry in the Guiness Book of World Records that tells of the costliest words ever spoken. Would it surprise anyone to know that they were spoken in a beer commercial? Actor James Coburn simply said two words, the name of a particular brand of beer, and he was paid $500,000. Half a million dollars for two words!
I'd love to sit down and argue with a Guiness Book of Records editor that those two words are not, in fact, the costliest words ever spoken. I believe without a doubt the most expensive words ever spoken were Jesus' words from the cross: "Father, forgive…". The father of the prodigal forgave, and gave. God, too, forgives and gives. We receive His forgiveness on the basis of the cross—the greatest gift ever given—and God keeps on giving: life, joy, peace, fellowship, every day that we are His.

MEMORY VERSE 
…Father, I have sinned against heaven, and in your sight; I am no longer worthy to be called your son.

READ THROUGH THE BIBLE 

Galatians 3; Psalms 90 
 
Click here to sign up for your free Winning Walk newsletter!
OUR THANK YOU TO YOU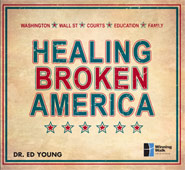 Healing Broken America
CD Series