SATISFACTION 
Mick Jagger and the Rolling Stones spoke for a generation when they sang, "I can't get no satisfaction." Every one on the planet desires it. Some have it, but most do not. Three decades after the Stones' driving anthem, many who sang along are still vainly seeking satisfaction. Like cows seek the greener grass in the next pasture, they crane their necks through barbed wire for a scant taste of something different, something more.
Let me tell you something. You can poke through that fence. You can change jobs. Leave your mate. Hide from your children. Book a flight on the Concorde. Make more money and spend it all and then some. But apart from God in Jesus Christ, there is no satisfaction! It's that simple. Every field that looks green from a distance is filled with beggar-lice, brown spots and cockleburrs up close. Nothing but Jesus satisfies the deepest desires of a person's heart.
The man who has everything but Christ has nothing. And the man who has Christ plus nothing, has everything. The heart is restless—forever seeking satisfaction—until it finds its rest in Him.
MEMORY VERSE 
For He has satisfied the thirsty soul, and the hungry soul He has filled with what is good.
READ THROUGH THE BIBLE 
Click here to sign up for your free Winning Walk newsletter!
OUR THANK YOU TO YOU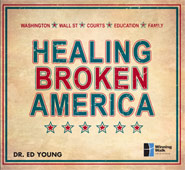 Healing Broken America
CD Series