THE ROCK THAT IS HIGHER 

The top of Sinai was a descent for God, but an ascent for Moses. God came down. Moses went up. God gave the
commandments. Moses received them. It is obvious, isn't it, that He is supreme, and that His authority is higher than anything
else? The Ten Commandments are not suggestions that have stood the test of time. They are timeless truths, woven into the
very fabric of the created universe.
When New Bedford was the center for whaling vessels, one sea captain was known to be superior to all others. His name was Hull, and he was a folk hero in that town. He was asked his secret of successful whaling many times, and this is what he would say: "I go up on deck, and I listen to the sound of the wind in the rigging. I study the tides very carefully, then I take a long look at the stars and chart my course accordingly." Years passed, and times changed. Insurance companies would no longer cover a vessel unless they had someone on board who was trained in modern navigational procedure. Captain Hull had three choices. He could quit his job, hire a younger, trained navigator, or learn the new methods himself. He opted for the latter, and went to school. On his first voyage after completing his study, he was more successful than ever before. The townspeople could not wait to ask him about it. "Did you use all your new instruments and techniques?" they wanted to know. "Oh, yes," he replied. "I went down to the chartroom and read my instruments and worked my equations. Then I went up on the deck, listened to the wind, studied the tides, and took a long, long look at the stars so I
could go back down and correct my equations."
We live in a different world than the one Moses knew. But although the times are different, the truth is not. God's commands are still relevant today, and will ever be so.

MEMORY VERSE 

Exodus 19:20And the Lord came down on mount Sinai, to the top of the mountain…and Moses went up.

READ THROUGH THE BIBLE 

2 Corinthians 12:12: Psalms 73

Click here to sign up for your free Winning Walk newsletter!
OUR THANK YOU TO YOU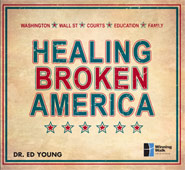 Healing Broken America
CD Series