The God of Rest
by Berni Dymet
Mark 6:31 He said to them, "Come away to a deserted place all by yourselves and rest a while."
Sometimes, I get all carried away. I love what I do, and before I know it, I'm so engrossed in this and that and the other thing - I forget to rest. Somehow, I think I can do it all….but none of us can. We need to rest.
Jesus sent His disciples out on a field ministry trip into the surrounding towns and villages. It was an amazing time of ministry.
But have a listen to what Jesus said to them - Come away to a deserted place all by your selves and rest for a while - because the crowds were following Him and they couldn't even have a quiet meal together. 
God is a God of rest. After creating the whole cosmos - He rested. In this rat race kind of world we live in, rest is something that so often we forget to do.
And in the middle of that - Jesus quietly draws alongside and whispers Come away to a deserted place with me, all by yourself - and rest for a while.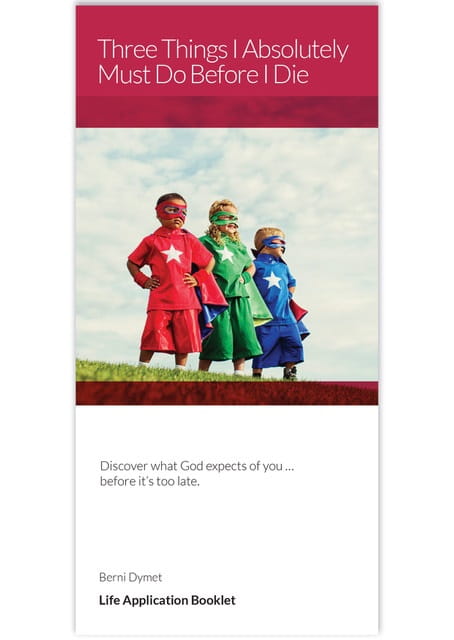 YOUR FREE BOOKLET – THREE THINGS I ABSOLUTELY MUST DO BEFORE I DIE
Here's a vital question for you to consider: If you died tonight, would you be ready for eternity? Now, many people know that it's all about having a simple faith in Jesus Christ. Nothing more, nothing less. But … do you have the sort of faith that Jesus talked about? To help you answer that question for sure, that's what our latest Life Application Booklet is all about: Three Things I Absolutely Must Do Before I Die. We would absolutely love to send you your very own FREE copy to help you make sure that you have the right answer, to the most important question of all.