It's Bizarre
by Berni Dymet
2 Chr. 1:11-12 God answered Solomon, 'Because this was in your heart, and you have not asked for possessions, wealth, honour, or the life of those who hate you, and have not even asked for long life, but have asked for wisdom and knowledge for yourself that you may rule my people over whom I have made you king, wisdom and knowledge are granted to you.'
The other morning I stopped for a break around eight o'clock and I realised that I'd spent time on a call to the US, another to Canada, responded to an e-mail in England, and yet another from Europe and dealt with some issues from our team in Africa. All from my study in Sydney Australia before 8.00 AM. As I drank my tea I thought, this is bizarre isn't it? 
I mean, I remember my grandfather telling me about the house he grew up in, during the late 1800's in Romania - instead of glass in the windows, they had animal skins.
The world's changed. But you know something, people haven't. Society and technology and all that stuff's changed - but deep in our hearts - in that place where we dream - nothing's changed.
There's a hunger, a yearning - for something more. There must be more to life than just….stuff.
It's so easy for us to let the day to day, crowd out the deepest yearnings of our heart.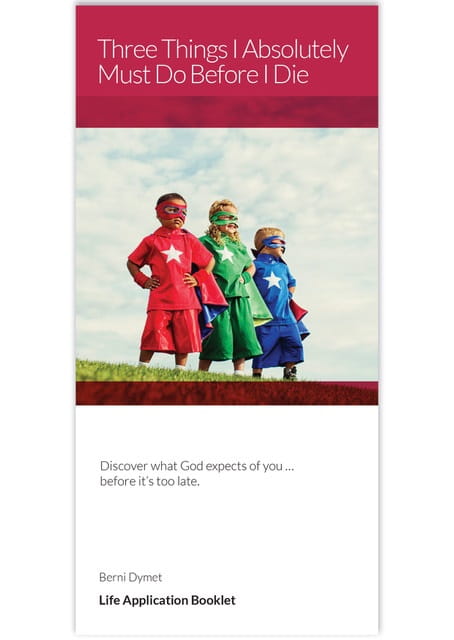 YOUR FREE BOOKLET – THREE THINGS I ABSOLUTELY MUST DO BEFORE I DIE
Here's a vital question for you to consider: If you died tonight, would you be ready for eternity? Now, many people know that it's all about having a simple faith in Jesus Christ. Nothing more, nothing less. But … do you have the sort of faith that Jesus talked about? To help you answer that question for sure, that's what our latest Life Application Booklet is all about: Three Things I Absolutely Must Do Before I Die. We would absolutely love to send you your very own FREE copy to help you make sure that you have the right answer, to the most important question of all.