His Word Stands Forever
by Berni Dymet

Is. 40:8 The grass withers, the flower fades; but the word of our God will stand forever.

I know people who have two, three, four different Bibles all gathering dust in a cupboard or on a shelf somewhere.
 
I've seen people in church on Sunday - whether it's been me preaching or someone else.

When it comes to looking at a particular verse or chapter, they've left their Bible at home and can't seem to muster the energy even to lean forward to pick up the pew Bible in front of them.

God's Word is something that people seem to take for granted, or don't think is relevant. Don't know what it is. And yet invariably, these are the very same people who just can't understand why God doesn't sort out this problem or that in their lives.

Seems to me that everything on this earth comes and goes. In the not too distant future, everything that's alive today - every man, woman, child, every animal, every plant - will be dust.

But the thing that stands forever… is the Word of God.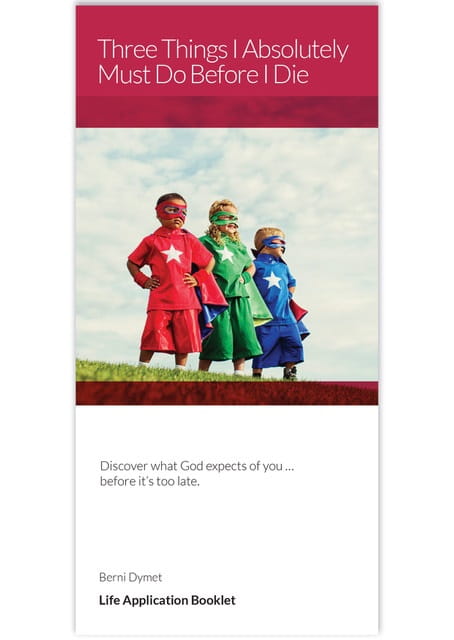 YOUR FREE BOOKLET – THREE THINGS I ABSOLUTELY MUST DO BEFORE I DIE
Here's a vital question for you to consider: If you died tonight, would you be ready for eternity? Now, many people know that it's all about having a simple faith in Jesus Christ. Nothing more, nothing less. But … do you have the sort of faith that Jesus talked about? To help you answer that question for sure, that's what our latest Life Application Booklet is all about: Three Things I Absolutely Must Do Before I Die. We would absolutely love to send you your very own FREE copy to help you make sure that you have the right answer, to the most important question of all.