In the Hands of an Angry God
by Berni Dymet
Heb. 10:26,27,31 For if we willfully persist in sin after having received the knowledge of the truth, there no longer remains a sacrifice for sins, but a fearful prospect of judgment, and a fury of fire that will consume the adversaries …It is a fearful thing to fall into the hands of the living God.

YEAH, YEAH. GOD SEES EVERYTHING. I SUPPOSE ONE DAY, ONE DAY … I'LL STAND BEFORE HIM. MAYBE. BUT I KIND OF BELIEVE IN JESUS. SORT OF … I GUESS. I SHOULD BE OKAY.

That's how the thinking goes. For many, many people that's how it goes. And the tragedy is that that attitude my friend, is just not going to cut it on that day we stand before God. It just isn't.
 
If we willfully persist in sin even though we know the truth, the sacrifice of Jesus isn't going to save us.  Instead, there's a fearful prospect of judgment, and a fury of fire that will consume us.

Don't believe me? Read it for yourself. New Testament. Hebrews Chapter 10, verses 26 and 27. 

Of course God is a God of love. Of course He wants us to spend eternity with Him. But if we just continue in rebellion against Him … it's not going to turn out the way we'd hoped. It just isn't!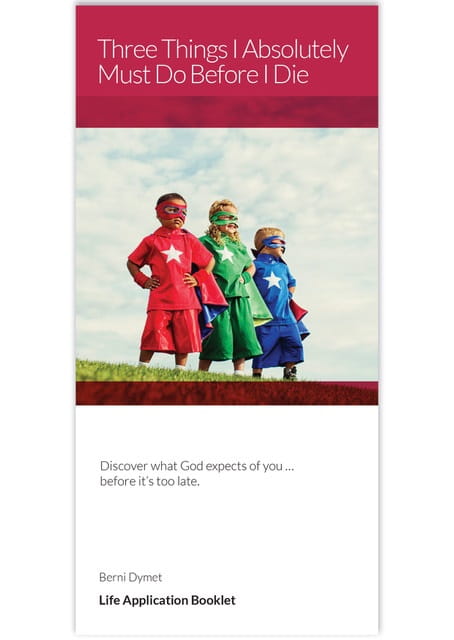 YOUR FREE BOOKLET – THREE THINGS I ABSOLUTELY MUST DO BEFORE I DIE
Here's a vital question for you to consider: If you died tonight, would you be ready for eternity? Now, many people know that it's all about having a simple faith in Jesus Christ. Nothing more, nothing less. But … do you have the sort of faith that Jesus talked about? To help you answer that question for sure, that's what our latest Life Application Booklet is all about: Three Things I Absolutely Must Do Before I Die. We would absolutely love to send you your very own FREE copy to help you make sure that you have the right answer, to the most important question of all.