Ugly Money

by Berni Dymet

Luke 16:14,15 The Pharisees, who were lovers of money, heard all this, and they ridiculed him. So he said to them, "You are those who justify yourselves in the sight of others; but God knows your hearts; for what is prized by human beings is an abomination in the sight of God.
The longer we hang around with God, the more comfortable we get with Him. And that's good. He is our loving Father after all - Jesus called Him "Dad", much to the horror of everyone else.

But somewhere in that relationship - there's a line in the sand. As with any Father, there's a line there and when we step over it, when we think all of a sudden that Dad's our buddy, our mate … almost like an equal … at that point, we've missed the point.

And one of the easiest areas that I've found to do that in my life is in the area of money. It's so easy to start imagining that God wants to pamper me. Sometimes He does of course … but my comfort and yours isn't the main game for God.

The things that glitter in our eyes, the things that sometimes we prize so highly - turns out that they can end up being an abomination in the sight of God.

God sees things differently to you and me. Because God, God doesn't share His glory with anyone.
It's the Little Things

Luke 16:10 Whoever is faithful in a very little is faithful also in much; and whoever is dishonest in a very little is dishonest also in much.
Sometimes we like to think that the little things just don't matter. Cut a corner here, a little white lie over there - hey, who's going to notice?

But think about our relationships - the people we love. The little things really do matter. A kind word, a hug - can make your spirit soar can't they? And a bit of gossip behind your back can be devastating.

But with God, we just want to sweep the little things we do- the things we know don't honor God - under the carpet.
Then we go to Him and with all these grand visions of the mighty things we want to do for Him. And nothing happens, nothing happens, nothing happens.

Why, what's going on God?

Well - here it is. He's waiting for us to get the little things sorted out. Because it's what we do with the little things, that's what tells Him what we're going to do with anything big that happens; anything big he trusts us with.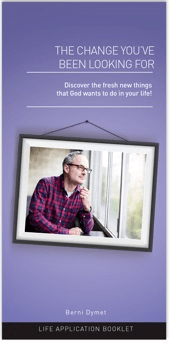 Your FREE eBooklet - "The Change You've Been Looking For"
So many people yearn for a better life, which is why "self-improvement" is a multi-billion dollar industry. But the truth is, it doesn't work, because the big changes, the truly important changes, are impossible to achieve on your own. That's why Jesus came. So if you want to lay hold of the "super-abundant" life that He promised (John 10:10) download this free eBooklet, because that's what it's all about. The change you've been looking for!