My Melissa
by Berni Dymet
James 1:2-4 My brothers and sisters, whenever you face trials of any kind, consider it nothing but joy, because you know that the testing of your faith produces endurance; and let endurance have its full effect, so that you may be mature and complete, lacking in nothing.

Want to share with you today about one of the greatest joys in my life. Her name is Melissa - my youngest. Just nineteen and these days she's an apprentice beauty therapist.

You know how hard it is bringing up kids. Those teenage years can be a real struggle - and even though she's always been a great kid, she and I are very different people, and so … we had our struggles.

But now all of a sudden -she's like a flower that's just burst open in spring. My little girl has grown up -and I can see how all those hard yards, the persistence, the investment - has paid off.
 
All of a sudden she has a mature head on her shoulders, she's doing incredibly well at work. And that maturity brings such joy to my father's heart.

I wonder … I wonder if that's how God feels about us, when we finally grow up - when we leave our childish tantrums behind, and show some maturity!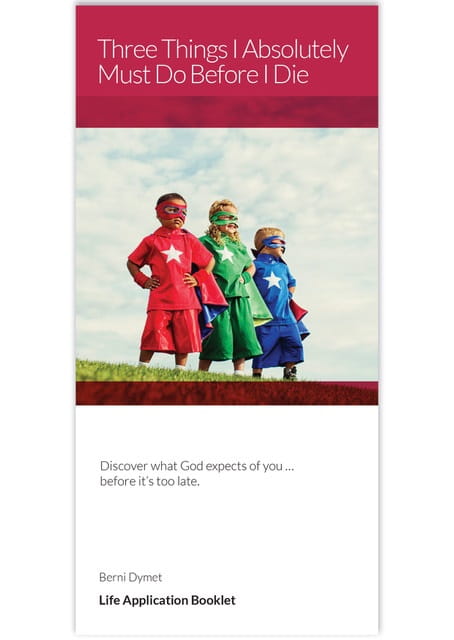 YOUR FREE BOOKLET – THREE THINGS I ABSOLUTELY MUST DO BEFORE I DIE
Here's a vital question for you to consider: If you died tonight, would you be ready for eternity? Now, many people know that it's all about having a simple faith in Jesus Christ. Nothing more, nothing less. But … do you have the sort of faith that Jesus talked about? To help you answer that question for sure, that's what our latest Life Application Booklet is all about: Three Things I Absolutely Must Do Before I Die. We would absolutely love to send you your very own FREE copy to help you make sure that you have the right answer, to the most important question of all.