On Solid Ground
by Berni Dymet
Romans 12:12 Rejoice in hope, be patient in suffering, persevere in prayer.
The surveys tell us, over the last month, two-thirds of all people prayed. Two-thirds! What's that about?
Maybe a prayer of desperation, or a sense of duty perhaps. But how many of us discover the sheer wonder and delight of prayer? How many ever unlock the real power of prayer? 
You know what happened for me when I started to pray - seriously? God started showing up. And now - now I'm hooked. Because when I pray, I have this, this quiet assurance. This deep sense of peace and joy, you know?
And it's something I only have, when I take those few minutes each day to pray. And it doesn't seem to matter then what the world throws at me. My feet are on solid ground. 
There's a whole bunch of things in my life - I don't know how they're going to turn out. I just don't.
But He does. I know. Because when I was praying this morning He just filled my heart with, with something you can't put into words.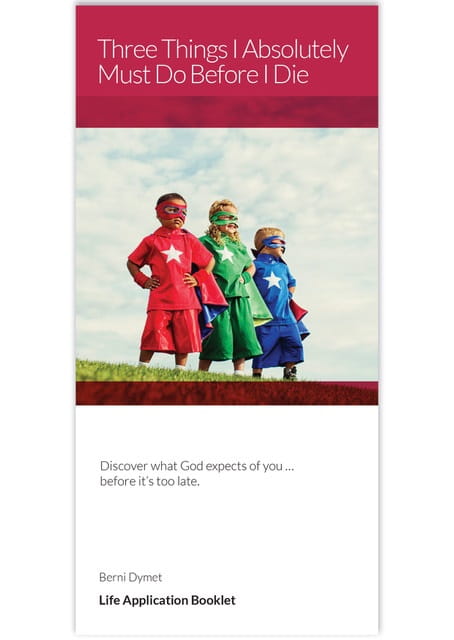 YOUR FREE BOOKLET – THREE THINGS I ABSOLUTELY MUST DO BEFORE I DIE
Here's a vital question for you to consider: If you died tonight, would you be ready for eternity? Now, many people know that it's all about having a simple faith in Jesus Christ. Nothing more, nothing less. But … do you have the sort of faith that Jesus talked about? To help you answer that question for sure, that's what our latest Life Application Booklet is all about: Three Things I Absolutely Must Do Before I Die. We would absolutely love to send you your very own FREE copy to help you make sure that you have the right answer, to the most important question of all.