The Battle Unseen
by Berni Dymet
Eph. 6:11,12 Put on the whole armor of God, so that you may be able to stand against the wiles of the devil. For our struggle is not against enemies of blood and flesh, but against the rulers, against the authorities, against the cosmic powers of this present darkness, against the spiritual forces of evil in the heavenly places.
The other day I went to see a movie about the war in Iraq. It was hard to watch. The chaos. The bloodshed. The brutality. 
Of course, we'd seen the war reported every night on the evening news just as it was happening. And still today – we'll hear about yet another suicide bombing in Bagdad. Yet another 45 people killed. 
But, even though I knew about the war … it was distant. Somehow it wasn't real; until I saw that movie the other day – and the brutal reality hit home. 
I wonder sometimes if it isn't the same with the spiritual battle that's raging - a battle for my soul and yours. People sometimes scoff at me when I talk about the devil, but he is real. He is. And there is a battle raging in the spiritual dimension for my soul and yours.
But to most of us it's just not real. Maybe that's why we don't take it seriously. Until something happens – to make the brutal reality hit home.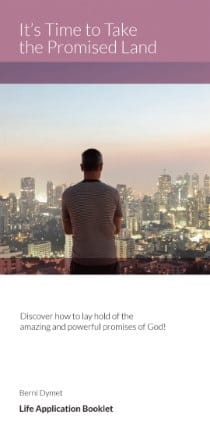 YOUR FREE BOOKLET – IT'S TIME TO TAKE THE PROMISED LAND
So many things in this world promise so much … and yet, so often, they fail to deliver. God's promises, on the other hand, never fail. Well … we know that in theory and yet, too many of those who believe in Jesus, somehow don't quite seem to manage to lay hold of God's promises in practice. How exactly do you live in the promises of God? Well, that's what our latest Life Application Booklet is all about: It's Time to Take the Promised Land.