from Day by Day with the Persecuted Church

Faith by itself, if not accompanied by action, is dead. (James 2:17)
Mona Khauli
In our present world, with so much pain and suffering, it is imperative that faith should lead to action in order to create change. This process of change must start in our own lives and attitudes. We have no right to excuse ourselves for lack of potential, as we have been empowered by Christ for the task that lies before us. Though we stand helpless against the wiles of political manipulation in Lebanon we do not stand idle. With faith and perseverance our Christian community has given emergency assistance, year after year, to the orphaned and homeless.
As peacemakers they heal the wounds of war with love. As people who care they take immense personal risks when penetrating military checkpoints to insure medical help to the displaced. Though facing unprecedented levels of torture and violence, they refuse a life of safety in exile.
We do not share these facts with you to show you how good we are. We simply share this to show you it can be done.
Our Christian community in Lebanon wants to demonstrate faith through deeds.
What about you?
Writer of the Month: Mona Khauli from Lebanon. Instead of leaving her country to seek peace, she chose to stay at great risk. She testifies of God's miracles.
Copyright [C] 1995 Open Doors International. Used by permission.
Click here to sign up for a free monthly newsletter from Open Doors about persecuted Christians.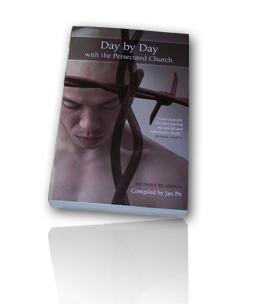 Day by Day with the Persecuted Church
compiled by Jan Pit with a forward by Brother Andrew (paperback, revised 2000)
Compelling wisdom from the pen of actual believers living amidst persecution, you'll be connected to the suffering, courage, and depth of life that exists in the harshest places in the world. Each of these 365 thought-provoking devotions will deepen your understanding of Christian persecution and provoke you to pray for our brothers and sisters with a new found depth.