from Day by Day with the Persecuted Church

When I heard these things, I sat down and wept. (Nehemiah 1:4)
Nehemiah
When Nehemiah learned that God's people were in great trouble, something happened within him.
He could have said, "It's too bad, but what can I do about it?" He did not react that way. When he heard the bad news he sat down and wept. Night and day Nehemiah sat and wept, mourned and fasted, thus to share the sorrows of his countrymen.
"By the rivers of Babylon we sat and wept when we remembered Zion ... If I forget you, O Jerusalem, may my right hand forget its skill" (Psalm 137:1-5).
Paul states in 1 Corinthians 12:26 "If one part suffers, every part suffers with it..." Nehemiah suffered with that other part.
The suffering of other people will be lifted in the same measure in which we share in their suffering. If we are willing to lift part of their burden, they do not need to bear that part any more. In doing so we not only become part of their problem, but also part of the solution.
Copyright [C] 1995 Open Doors International. Used by permission.
Click here to sign up for a free monthly newsletter from Open Doors about persecuted Christians.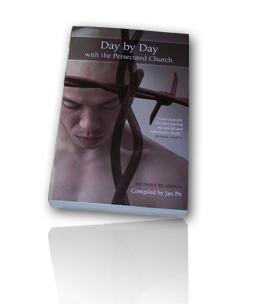 Day by Day with the Persecuted Church
compiled by Jan Pit with a forward by Brother Andrew (paperback, revised 2000)
Compelling wisdom from the pen of actual believers living amidst persecution, you'll be connected to the suffering, courage, and depth of life that exists in the harshest places in the world. Each of these 365 thought-provoking devotions will deepen your understanding of Christian persecution and provoke you to pray for our brothers and sisters with a new found depth.