from Day by Day with the Persecuted Church

I confess the sins we Israelites, including myself have committed against you. We have acted very wickedly towards you. We have not obeyed the commands ... you gave your servant Moses.
Nehemiah
Nehemiah had a burden. The burden of his people became his own burden. What could he do about it?
Had his response to the bad news been only grief, it would have been nothing more than an expression of sentiment. Nehemiah's response was different. It started with grief; it led to prayer and was followed by action. A few things stand out in his prayer.
In the first place he mentioned the reasons for Israel's troubles. In the second place he acknowledged that he himself was not any better than his fellow countrymen. Instead of only accusing others, he confessed that he too had sinned. His confession was both corporate and personal. In the third place he reflected upon the promises of God. He reminded God of His promises. His whole prayer was rooted in these promises: God, You have said...
When we point our finger at others, we must remember that three fingers will point back to ourselves. We are not any better. We too, do not deserve the grace of God. We too have sinned. In confessing their sins and ours, we may count on God's promises.
"If my people, who are called by my name, will humble themselves and pray and seek my face and turn from their wicked ways, then will I hear from heaven and will forgive their sin and will heal their land" (2 Chronicles 7:14).
There is hope, for our nation, for ourselves, and for those who suffer in captivity.
Copyright [C] 1995 Open Doors International. Used by permission.
Click here to sign up for a free monthly newsletter from Open Doors about persecuted Christians.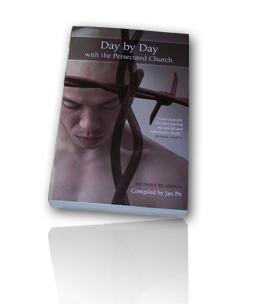 Day by Day with the Persecuted Church
compiled by Jan Pit with a forward by Brother Andrew (paperback, revised 2000)
Compelling wisdom from the pen of actual believers living amidst persecution, you'll be connected to the suffering, courage, and depth of life that exists in the harshest places in the world. Each of these 365 thought-provoking devotions will deepen your understanding of Christian persecution and provoke you to pray for our brothers and sisters with a new found depth.