from Day by Day with the Persecuted Church

Nehemiah said: Go and enjoy choice food and sweet drinks and send some to those who have nothing prepared. (Nehemiah 8:10)
Nehemiah
When the wall was rebuilt it was celebrated with a feast. All the people gathered together to listen to the word of God. After years of suffering and shame the word of the Lord was being read again.
The people wept when they heard the word of God. Tears of happiness, but also tears of sorrow. Sorrow over sins they had committed. It is good to grieve over a sinful past, but there should also be happiness because of the forgiving love of God.
"Be still, for this is a sacred day. Do not grieve" (Nehemiah 8:11).
After that Nehemiah called the people to think about others also, those for whom there was nothing to celebrate. "Send something to everyone for whom nothing is prepared, a portion."
Real happiness and thankfulness is characterized by sharing. The people understood the command. They counted their blessings and shared them with those who had received nothing.
There is still a blessing in giving. "A generous man will prosper; he who refreshes others will himself be refreshed" (Proverbs 11:25).
Copyright [C] 1995 Open Doors International. Used by permission.
Click here to sign up for a free monthly newsletter from Open Doors about persecuted Christians.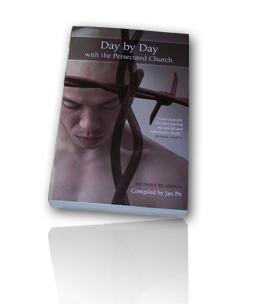 Day by Day with the Persecuted Church
compiled by Jan Pit with a forward by Brother Andrew (paperback, revised 2000)
Compelling wisdom from the pen of actual believers living amidst persecution, you'll be connected to the suffering, courage, and depth of life that exists in the harshest places in the world. Each of these 365 thought-provoking devotions will deepen your understanding of Christian persecution and provoke you to pray for our brothers and sisters with a new found depth.