from Day by Day with the Persecuted Church

...we also rejoice in our sufferings because we know that suffering produces perseverance; perseverance, character; and character, hope. And hope does not disappoint us, because God has poured out his love into our hearts by the Holy Spirit, whom he has given us. (Romans 5:3-5)
Mona Khauli
These words are so rich and meaningful; yet they are so difficult to put into practice.
To glory in tribulation? How can this be? It is neither human nor tactful to rejoice in suffering, especially when it concerns people around us. What does Paul really mean?
The best way to explain is to quote a Christian woman in my country, Lebanon. She was facing one family hardship after another. When asked how she managed to cope with all these hardships she answered, "Troubles are challenges to me. Even difficulty that comes my way is a perpetual source of wonder. I am so eager to see how the Lord will get me out of it."
She had found the secret. Not theoretically but through pains and problems. "In all these things we are more that conquerors through him who loved us" (Romans 9:37). Her secret was Paul's secret. Paul's experience became her experience. What about you?
It is no secret what God can do, what He has done for others He will do for you.
Writer of the Month: Mona Khauli from Lebanon. Instead of leaving her country to seek peace, she chose to stay at great risk. She testifies of God's miracles.
Copyright [C] 1995 Open Doors International. Used by permission.
Click here to sign up for a free monthly newsletter from Open Doors about persecuted Christians.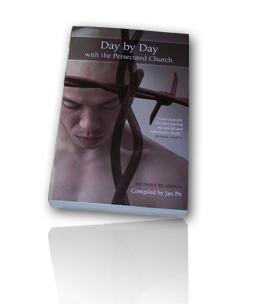 Day by Day with the Persecuted Church
compiled by Jan Pit with a forward by Brother Andrew (paperback, revised 2000)
Compelling wisdom from the pen of actual believers living amidst persecution, you'll be connected to the suffering, courage, and depth of life that exists in the harshest places in the world. Each of these 365 thought-provoking devotions will deepen your understanding of Christian persecution and provoke you to pray for our brothers and sisters with a new found depth.