from Day by Day with the Persecuted Church

In this first part of the psalm, David cries out to God for help. He is surrounded by enemies. Even his own health is suffering because of it. In the midst of this sickness and strife, David calls on God for help. The Lord knows, the Lord sees. We can trust such a God under all circumstances.
David
In you, O Lord, I have taken refuge; let me never be put to shame; deliver me in your righteousness.
Turn your ear to me, come quickly to my rescue; be my rock of refuge, a strong fortress to save me.
Since you are my rock and my fortress, for the sake of your name lead and guide me.
Free me from the trap that is set for me, for you are my refuge.
Into your hands I commit my spirit; redeem me, O Lord, the God of truth.
I hate those who cling to worthless idols; I trust in the Lord.
I will be glad and rejoice in your love, for you saw my affliction and knew the anguish of my soul.
You have not handed me over to the enemy but have set my feet in a spacious place.
(Psalm 31:1-8)
Copyright [C] 1995 Open Doors International. Used by permission.
Click here to sign up for a free monthly newsletter from Open Doors about persecuted Christians.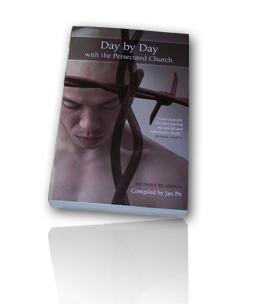 Day by Day with the Persecuted Church
compiled by Jan Pit with a forward by Brother Andrew (paperback, revised 2000)
Compelling wisdom from the pen of actual believers living amidst persecution, you'll be connected to the suffering, courage, and depth of life that exists in the harshest places in the world. Each of these 365 thought-provoking devotions will deepen your understanding of Christian persecution and provoke you to pray for our brothers and sisters with a new found depth.