from Day by Day with the Persecuted Church

The friendship of the Lord is for those who fear him and he makes known to them his covenant.
(Psalm 25:14)
Lung Singh
The Suffering Church is a praying Church. Persecuted Christians pray a lot. When it comes to praying, they even seem to be leading figures, for their prayers seem to be much more powerful and intensive than the prayers of many in the "free" world.
Many times when I listened to their prayers, I was deeply moved. And strange as it may seem, I often watched them while they were praying. I felt that they were so close to God that they could almost touch Him. These were prayers without verbiage, without shame, without searching for sentences. Prayers with a deep realization of being in the presence of the living, holy God.
Their prayers were characterized by genuineness, simplicity and ... tears. Not from emotion, for the Suffering Church has learned to restrain emotion long ago, but because of the consciousness of their own sinfulness and weakness when meeting God. Is this the reason why their prayers are so powerful? And yet they know and address this holy God as "Our Father."
True friendship with God is brought about by intimate contact with Him, the Holy One ... Our Father.
"Lord, teach us to pray" (Luke 11:1).
Writer of the Month: Lung Singh from Laos. He did not write his own contributions, but Jan Pit has edited his experiences and remarks and printed them under his name in this devotional. His life story is recorded in the book No Turning Back by Jan Pit, Marshall Pickering, 1985. According to rumors Singh was killed by his brother because of his faith in Jesus Christ.
Copyright [C] 1995 Open Doors International. Used by permission.
Click here to sign up for a free monthly newsletter from Open Doors about persecuted Christians.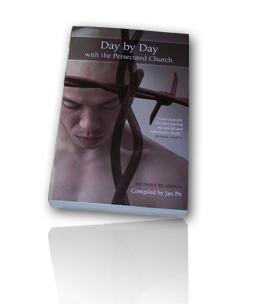 Day by Day with the Persecuted Church
compiled by Jan Pit with a forward by Brother Andrew (paperback, revised 2000)
Compelling wisdom from the pen of actual believers living amidst persecution, you'll be connected to the suffering, courage, and depth of life that exists in the harshest places in the world. Each of these 365 thought-provoking devotions will deepen your understanding of Christian persecution and provoke you to pray for our brothers and sisters with a new found depth.