from Day by Day with the Persecuted Church

As the heavens are higher than the earth, so are my ways higher than your ways and my thoughts than your thoughts. (Isaiah 55:9)
Lung Singh
An answer to prayer does not necessarily mean that God always gives you what you have asked for. Yet His motivation is always love, though we may not always understand Him.
After Singh had prayed, he calmed down. But the wind didn't abate. The storm grew more intense. I looked at Singh while he testified of his faith in Jesus Christ. The wind of which Singh had been so afraid of was whining around the house. I called Singh and told him that the wind was really very strong now and I offered to take him home in my land rover, so that his wife and child and he himself didn't have to be afraid anymore. Singh looked at me in astonishment, "But I am no longer afraid. We just prayed about it, didn't we? It's alright now."
Outside the wind was howling, but Singh was quiet. At home, his wife was sound asleep and their child was safe also. The wind didn't drop as I had expected it to. God answered our prayer by bestowing peace in the hearts of those who needed it. I had learned my lesson.
For today's storms the Lord has His own solution.
Writer of the Month: Lung Singh from Laos. He did not write his own contributions, but Jan Pit has edited his experiences and remarks and printed them under his name in this devotional. His life story is recorded in the book No Turning Back by Jan Pit, Marshall Pickering, 1985. According to rumors Singh was killed by his brother because of his faith in Jesus Christ.
Copyright [C] 1995 Open Doors International. Used by permission.
Click here to sign up for a free monthly newsletter from Open Doors about persecuted Christians.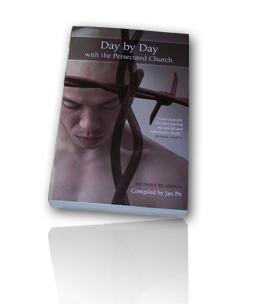 Day by Day with the Persecuted Church
compiled by Jan Pit with a forward by Brother Andrew (paperback, revised 2000)
Compelling wisdom from the pen of actual believers living amidst persecution, you'll be connected to the suffering, courage, and depth of life that exists in the harshest places in the world. Each of these 365 thought-provoking devotions will deepen your understanding of Christian persecution and provoke you to pray for our brothers and sisters with a new found depth.