from Day by Day with the Persecuted Church

Therefore I tell you, do not worry about your life, what you will eat or drink; or about your body, what you will wear. Is not life more important than food and the body more important than clothes?
Lung Singh
Is God only interested in big problems or is He also interested in our little day-to-day worries?
That was the subject of a Bible study in a small village inhabited by refugees from east Laos. All of them had had to flee the danger of war, the war between the United States and North Vietnam. Now they were living in the free part of Laos, robbed of house and home, in shabby little bamboo huts.
They had big problems, which was the reason why we had this Bible study about worries and confidence. But there were also small problems and these they often expressed in their prayers, which were sincere and uncomplicated.
A widow who had been able to take refuge with her only son was listening attentively. She had so many problems concerning many different matters. There were no social services, there was no work and every day they had to search the woods for food in order to stay alive. "Give us this day our daily bread" was an everyday prayer for her. At the end of the meeting she asked the others to pray for her. "Will you please pray for my pig, for it is ill?" There was no negative reaction whatsoever to this strange request. It was her only possession. So there was fervent and faithful prayer for the poor woman's pig.
Why would God make an axe float on water (2 Kings 6) and not cure a pig?
God is so great yet He is also interested in small matters. 'Do not be anxious about anything, but in everything ... present your requests to God" (Philippians 4:6).
Writer of the Month: Lung Singh from Laos. He did not write his own contributions, but Jan Pit has edited his experiences and remarks and printed them under his name in this devotional. His life story is recorded in the book No Turning Back by Jan Pit, Marshall Pickering, 1985. According to rumors Singh was killed by his brother because of his faith in Jesus Christ.
Copyright [C] 1995 Open Doors International. Used by permission.
Click here to sign up for a free monthly newsletter from Open Doors about persecuted Christians.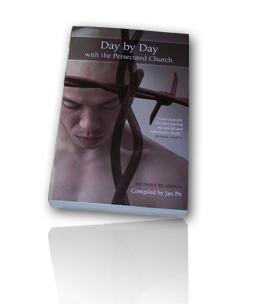 Day by Day with the Persecuted Church
compiled by Jan Pit with a forward by Brother Andrew (paperback, revised 2000)
Compelling wisdom from the pen of actual believers living amidst persecution, you'll be connected to the suffering, courage, and depth of life that exists in the harshest places in the world. Each of these 365 thought-provoking devotions will deepen your understanding of Christian persecution and provoke you to pray for our brothers and sisters with a new found depth.