from Day by Day with the Persecuted Church

...A man after His own heart. (1 Samuel 13:14)
Yang Zhang
A man who obeys God is not necessarily a man after God's heart. Of course, God wants us to obey Him. But obedience does not always come voluntarily. We can obey God because we feel we have to, whereas a man after God's heart obeys the Lord's will fully and voluntarily.
The first is a matter of will, the second a matter of the heart. David was such a man. He said, "I desire to do your will, O my God" (Psalm 40:8). Not because he had to, but because he wanted to. That is what made David a man after God's heart. Why? Because David knew that God wants the best for us. That God's will is perfect.
Many people say God's will is a yoke or a burden. David's assertion was, "His yoke is easy and his burden is light." That makes all the difference.
Such a man can face problems, overcome temptations, and be steadfast in times of persecution. Why should I not be that man?
Writer of the Month: Yang Zhang from China. A fiery evangelist from China writing under a pseudonym for his protection.
Copyright [C] 1995 Open Doors International. Used by permission.
Click here to sign up for a free monthly newsletter from Open Doors about persecuted Christians.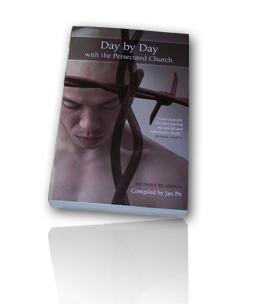 Day by Day with the Persecuted Church
compiled by Jan Pit with a forward by Brother Andrew (paperback, revised 2000)
Compelling wisdom from the pen of actual believers living amidst persecution, you'll be connected to the suffering, courage, and depth of life that exists in the harshest places in the world. Each of these 365 thought-provoking devotions will deepen your understanding of Christian persecution and provoke you to pray for our brothers and sisters with a new found depth.