from Day by Day with the Persecuted Church

David knows the balance between asking God for things and offering up prayers of thanksgiving. He calls on God for help, but he does not forget to thank Him for answered prayer.
David
To you I call, O Lord my Rock; do not turn a deaf ear to me. For if you remain silent, I will be like those who have gone down to the pit.
Hear my cry for mercy as I call to you for help, as I lift up my hands toward your Most Holy Place.
Do not drag me away with the wicked, with those who do evil, who speak cordially with their neighbors but harbor malice in their hearts.
Praise be to the Lord, for he has heard my cry for mercy.
The Lord is my strength and my shield; my heart trusts in him, and I am helped. My heart leaps for joy and I will give thanks to him in song.
The Lord is the strength of his people, a fortress of salvation for his anointed one.
Save your people and bless your inheritance; be their shepherd and carry them forever.
(Psalm 28:1-3, Psalm 28:6-9)
Copyright [C] 1995 Open Doors International. Used by permission.
Click here to sign up for a free monthly newsletter from Open Doors about persecuted Christians.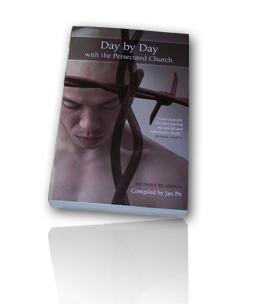 Day by Day with the Persecuted Church
compiled by Jan Pit with a forward by Brother Andrew (paperback, revised 2000)
Compelling wisdom from the pen of actual believers living amidst persecution, you'll be connected to the suffering, courage, and depth of life that exists in the harshest places in the world. Each of these 365 thought-provoking devotions will deepen your understanding of Christian persecution and provoke you to pray for our brothers and sisters with a new found depth.