from Day by Day with the Persecuted Church

God, whom I serve with my whole heart in preaching the gospel of his Son, is my witness how constantly I remember you in my prayers at all times. (Romans 1:9)
Paul
Prayer was not an incidental activity in Paul's life. It was fundamental to his ministry. He prayed for his fellow believers, constantly and at all times. Nowhere do we read that Paul had problems keeping his quiet time. He never needed to confess that he should pray more. Prayer was the source of his strength, his intimate fellowship with God. Even in prison, with his feet chained and his back beaten, he prayed and praised God.
His whole ministry was based on his prayer life.
Somebody once said, "What you are on your knees is what you really are and no more!" That's what made Paul so strong. Almost all of his letters start with, "I pray for you..." And he does not hesitate to ask for prayer for himself, "Pray also for me." Paul's hands were strong because they were folded. Prayer is not only the breath of the soul, but also the means to move the hand of God. Through prayer God revealed mysteries to him and he attained insight in the spiritual warfare in the heavenlies and his walk continued from strength to strength. Paul knew his priorities well and acted accordingly. And not in vain.
God hears and keeps your prayers.
Eternity will reveal how they were answered.
"Pray continually, give thanks in all circumstances, for this is God's will for you in Christ Jesus" (1 Thessalonians 5:17-18).
Copyright [C] 1995 Open Doors International. Used by permission.
Click here to sign up for a free monthly newsletter from Open Doors about persecuted Christians.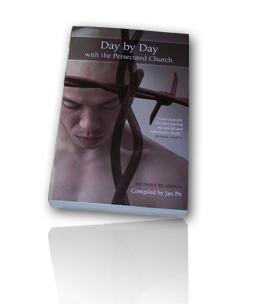 Day by Day with the Persecuted Church
compiled by Jan Pit with a forward by Brother Andrew (paperback, revised 2000)
Compelling wisdom from the pen of actual believers living amidst persecution, you'll be connected to the suffering, courage, and depth of life that exists in the harshest places in the world. Each of these 365 thought-provoking devotions will deepen your understanding of Christian persecution and provoke you to pray for our brothers and sisters with a new found depth.