from Day by Day with the Persecuted Church

I am ready not only to be bound, but also to die in Jerusalem for the name of the Lord Jesus. (Acts 21:13)
Paul
One of the most touching speeches of Paul is his farewell speech in Acts chapter 20. In many ways the Holy Spirit revealed to Paul how much he must suffer for the Lord. The brethren tried to persuade him not to go to Jerusalem. They feared lest Paul would find himself in prison. In their eyes he was more serviceable to them out of prison.
Paul was not looking for problems. He was seeking God. The Lord had prepared Paul for what was ahead and his reaction was clear.
"However, I consider my life worth nothing to me, if only I may finish the race and complete the task the Lord Jesus has given me - the task of testifying to the Gospel of God's grace." Then Paul followed with "Keep watch over yourselves and all the flock of which the Holy Spirit has made you overseers."
"Be shepherds of the Church of God, which He bought with his own blood."
"Now I commit you to God and the Word of His grace, which can build you up and give you an inheritance among all those who are sanctified."
When he had said this he knelt down with all of them and prayed. They all wept as they embraced and kissed him.
God must have placed great trust in Paul to convey to him what awaited him. Equally Paul trusted God enough to follow Him to the end.
May God also find in us that preparedness, whatever the future may hold. For our times are in God's hands.
Copyright [C] 1995 Open Doors International. Used by permission.
Click here to sign up for a free monthly newsletter from Open Doors about persecuted Christians.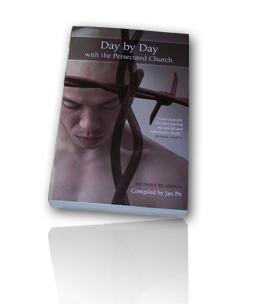 Day by Day with the Persecuted Church
compiled by Jan Pit with a forward by Brother Andrew (paperback, revised 2000)
Compelling wisdom from the pen of actual believers living amidst persecution, you'll be connected to the suffering, courage, and depth of life that exists in the harshest places in the world. Each of these 365 thought-provoking devotions will deepen your understanding of Christian persecution and provoke you to pray for our brothers and sisters with a new found depth.