from Day by Day with the Persecuted Church

In this beautiful psalm David confesses that God is the Omnipotent and the Omniscient One. David realizes that God knew him before he was born. This God will guide him until the day he will stand before His throne. That could be a long, difficult path. That is why David asks the Lord to guide him; to protect him from offensive ways; to lead him in the way everlasting.
David
O Lord, you have searched me and you know me.
You know when I sit and when I rise; you perceive my thoughts from afar.
You discern my going out and my lying down; you are familiar with all my ways.
Before a word is on my tongue you know it completely, O Lord.
You hem me in - behind and before; you have laid your hand upon me.
Such knowledge is too wonderful for me, too lofty for me to attain.
Where can I go from your Spirit? Where can I flee from your presence?
If I go up to the heavens, you are there; if I make my bed in the depths, you are there.
If I rise on the wings of the dawn, if I settle on the far side of the sea,
even there your hand will guide me, your right hand will hold me fast.
Search me, O God, and know my heart; test me and know my anxious thoughts.
See if there is any offensive way in me, and lead me in the way everlasting.
(Psalm 139:1-10,23,24)
Copyright [C] 1995 Open Doors International. Used by permission.
Click here to sign up for a free monthly newsletter from Open Doors about persecuted Christians.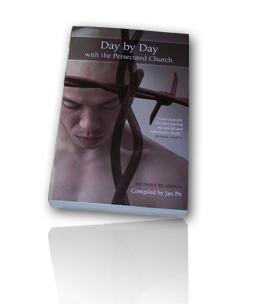 Day by Day with the Persecuted Church
compiled by Jan Pit with a forward by Brother Andrew (paperback, revised 2000)
Compelling wisdom from the pen of actual believers living amidst persecution, you'll be connected to the suffering, courage, and depth of life that exists in the harshest places in the world. Each of these 365 thought-provoking devotions will deepen your understanding of Christian persecution and provoke you to pray for our brothers and sisters with a new found depth.