from Day by Day with the Persecuted Church

...and free those who all their lives were held in slavery by their fear of death. (Hebrews 2:15)
Joseph Ton
Fear is an invention of the devil and a consequence of sin. The devil has countless kinds of fears - fear of failure, fear of disease and death, fear of unemployment, fear of the future, fear of suffering, fear of...
Through all these fears man is doomed to slavery. Through fear, Satan makes us passive, not only in countries where Christians are persecuted, but also in the so-called "free countries." Remarkably, there is often much fear in these free countries. It is the devil's instrument to enslave people. But the Lord sets us free from fear. There is no fear in love (1 John 4:18). The Lord sets us free, so that we no longer fear our enemies, but even love them.
This freedom is not related to living in a free country, for there are millions of slaves in the "free" world. It is a deep spiritual freedom which turns fear into courage, unrest into peace, uncertainty into certainty, doubt into hope and death into life.
"And the peace of God, which transcends all understanding will guard your hearts and your minds ... in Christ Jesus" (Philippians 4:7).
Joseph Ton from Romania. Joseph Ton describes a number of spiritual principles of God's faithfulness despite suffering. Edited with permission from the Dutch booklet entitled Lessen in Lijden.
Copyright [C] 1995 Open Doors International. Used by permission.
Click here to sign up for a free monthly newsletter from Open Doors about persecuted Christians.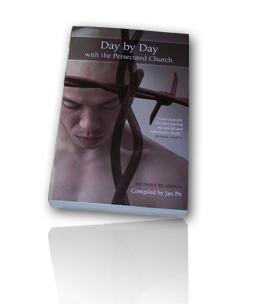 Day by Day with the Persecuted Church
compiled by Jan Pit with a forward by Brother Andrew (paperback, revised 2000)
Compelling wisdom from the pen of actual believers living amidst persecution, you'll be connected to the suffering, courage, and depth of life that exists in the harshest places in the world. Each of these 365 thought-provoking devotions will deepen your understanding of Christian persecution and provoke you to pray for our brothers and sisters with a new found depth.