from Day by Day with the Persecuted Church

For your sake we face death all day long; we are considered as sheep to be slaughtered ... I am convinced that neither death nor life will be able to separate us from the love of God that is in Christ Jesus our Lord. (Romans 8:36-39)
Oswaldo Magdangal
Saudi Arabia is the cradle of Islam. Every Saudi who becomes a Christian can be sentenced to death for it. Christians can only meet in total secrecy, and building Christian churches is strictly forbidden.
As the Saudi Arabian Minister of Information, Ali Ben Hassan ash-Shair said in an interview with the French paper Le Figaro in August 1992, "The Saudi government cannot allow any churches on its territory because it is Allah's command."
Brother Wally comes from the Philippines and he had been working in Saudi Arabia for more than ten years, when he was imprisoned and sentenced to death.
In Saudi Arabia, the death penalty can be executed in two ways - decapitation or hanging. Decapitation is for criminals, murderers, drug dealers etc. Hanging is reserved for blasphemy and subversive activities. Brother Wally was sentenced to death by hanging - because of his testimony that Jesus Christ is the Son of God. Islam considers this blasphemy, which deserves the most dreadful way to die - hanging. Brother Wally wrote, "Although we had prepared ourselves for suffering and the Lord had also prepared us spiritually, it is quite different when it happens to you personally. In the middle of my struggle in a dirty little death cell, the Lord encouraged me with the following words, 'My son, I have seen everything. I assure you that I will not leave you or forsake you.' The Lord is close to the brokenhearted. In the deepest darkness, He is the light. God gives strength in suffering - always, everywhere."
Oswaldo Magdangal from Saudi Arabia. This Filipino brother ministered in Saudi Arabia where he testified of his Savior even while being threatened with hanging.
Copyright [C] 1995 Open Doors International. Used by permission.
Click here to sign up for a free monthly newsletter from Open Doors about persecuted Christians.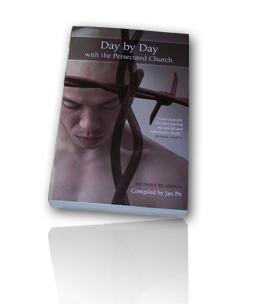 Day by Day with the Persecuted Church
compiled by Jan Pit with a forward by Brother Andrew (paperback, revised 2000)
Compelling wisdom from the pen of actual believers living amidst persecution, you'll be connected to the suffering, courage, and depth of life that exists in the harshest places in the world. Each of these 365 thought-provoking devotions will deepen your understanding of Christian persecution and provoke you to pray for our brothers and sisters with a new found depth.