from Day by Day with the Persecuted Church

You also, like living stones, are being built into a spiritual house. (1 Peter 2:5)
Joseph Ton
Suffering is not without a purpose. Peter writes that we are living stones which are joined together to build up a spiritual temple.
Peter must have had King Solomon's temple in mind when he wrote this. Solomon had stone-cutters working for him who hacked out the stones one by one from the mountains and polished them. Then, all the stones were transported to the building site, where they only needed to be put together. The Bible says that there was no sound of a hammer or a chisel on the construction-site; the polishing had already been done in the quarry (1 Kings 6:7).
Peter writes that we are living stones used to build up a spiritual temple. One day, the last stone will complete the building and what a wonderful temple it will be! God will reside there. But it also implies that we are now in God's quarry, a place of cutting and polishing, and that hurts.
Moses regarded disgrace for the sake of Christ (the pain) as of greater value than the treasures of Egypt, because he was looking ahead to his reward. He persevered because he saw him who is invisible (Hebrews 11:26,27).
That way God can use us - a living stone to build a spiritual house.
Joseph Ton from Romania. Joseph Ton describes a number of spiritual principles of God's faithfulness despite suffering. Edited with permission from the Dutch booklet entitled Lessen in Lijden.
Copyright [C] 1995 Open Doors International. Used by permission.
Click here to sign up for a free monthly newsletter from Open Doors about persecuted Christians.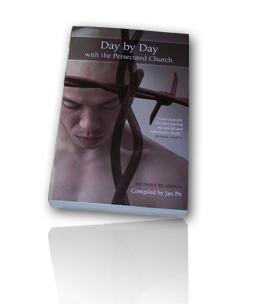 Day by Day with the Persecuted Church
compiled by Jan Pit with a forward by Brother Andrew (paperback, revised 2000)
Compelling wisdom from the pen of actual believers living amidst persecution, you'll be connected to the suffering, courage, and depth of life that exists in the harshest places in the world. Each of these 365 thought-provoking devotions will deepen your understanding of Christian persecution and provoke you to pray for our brothers and sisters with a new found depth.